PokeLookup – Poke map radar for Pokemon Go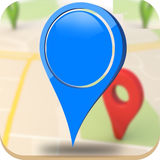 Release Date:
Current Version:
Adult Rating:
Developer:
Compatibility: iOS, Android
Rating:

4/5 from 36 votes
You are playing Pokemon Go
How can you look ahead the pokemon (type and location) ?
This app help you to search the location of pokemon near you like PokeVision, PokeWhere or Go Radar…
We are to provide you a great app that help you to save time and effort on catching Pokemon as well as Looking the Pokemon Type you need to collect.
Another feature of the app is to display the path from your current location to any pokemon location near you.
To be the first person to catch rare Pokemon.
Note that:
+ The data used in PokeLookup is real. We never interact with Niantic servers. We are not associated, affiliated, sponsored, or endorsed by Niantic or the Pokémon Company. We do not hold the rights to any copyrighted material.
+ This app provide "run in background mode " feature, continued use of GPS running in the background can dramatically decrease battery life.
Download free apk app for android or iphone ios.