Poke Map – Radar for Pokémon GO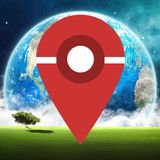 Release Date:
Current Version:
Adult Rating:
Developer:
Compatibility: iOS, Android
Rating:

4/5 from 36 votes
Poke Map – Radar for Pokemon GO is pokemon finding tool with known pokemon locations and encounter times submitted by active Pokemon GO players from all over the world.
You can see all pokemon locations around your location by scrolling the map or you can alternatively use the "Filter" button to select a specific pokemon you want to find.
Tap on red near by button in the bottom left to find the pokemons near by you.
To submit a Pokemon's location, make sure you're currently located near where you found it then simply tap the red pin button in the bottom right and select the pokemon which you found. Let's share pokemon's location which you know for everybody on the world.
If you have a problem with Poke Maps, please send email to us at: [email protected]
Thanks and best regards,
Long.Dang
Download free apk app for android or iphone ios.