FastPokeMap – Real Time Map for Pokemon Go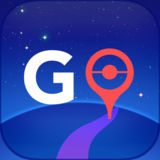 Release Date:
Current Version:
Adult Rating:
Developer:
Compatibility: iOS, Android
Rating:

4/5 from 36 votes
Want to catch them all? We are the app for you!
Catch all the pokemon around the world in real time for Pokémon GO.
Free data, move sets, counters, evolutions and much more for each pokemon!
Filter pokemon you want to see on the map!
Filter pokemon you never want to see on the map too!
Have instant walking/driving directions given to you inside the app!
No login and we're free!
Disclaimer:
FastPokeMap is in no way affiliated with or endorsed by the Pokemon brand, Niantic or Nintendo. All copyright and registered trademark material belongs to their rightful makers.
Download free apk app for android or iphone ios.