Chat for Pokemon Go – GoChat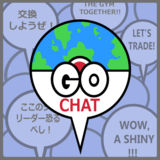 Release Date:
Current Version:
Adult Rating:
Developer:
Compatibility: iOS, Android
Rating:

4/5 from 36 votes
The game Pokemon Go has no in-game location based chat so we decided to make one for Pokemon Go ourselves. The current features available at this time are the ability to post to specific locations (where Pokemon Go has pokemon, gyms, etc), the ability to direct message players who play Pokemon Go that are nearby from their posts (by holding down on a post and clicking "message"), and personal profiles and profile pictures.
GoChat is the new geolocation based augmented reality adventure. Our app let's you easily capture and battle with others. Which of the three teams are you on?
You may only see posts or message users directly from their posts if you are close enough to the location of the post itself. If you are too far away, much like the PoGo game itself, the app will notify you that you are too far to view the post and that you must get closer in order to do so. We believe that this will allow for a more seamless chat experience that will go hand in hand with the PoGo game.
If you have any ideas, suggestions, or would like to help in any way please feel free to email us at [email protected]
Download free apk app for android or iphone ios.