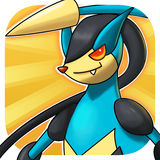 Release Date:
Current Version:
Adult Rating:
Developer:
Compatibility: iOS, Android
Rating:

4/5 from 36 votes
Addictive and FREE adventure gameplay with monster-collecting RPG fun!
Ready to become a dragon trainer?
= VARIETY OF MONSTERS AND TYPES =
– With over 100 unique monsters to collect,there is no limit to the number of different team combinations you can try and fight.
– More than 200 MOVES for your dragons to learn.
– Dragons have different types:Water, Fire, Grass, Dragon, Normal, Ice, Bug, Flying, Poison, Fighting, Ghost, Fairy, Rock, Ground
= EVOLVE =
– Boost your Dragons to power up your stats!
– Evolve them to unlock new and stronger Dragons.
= BATTLE =
– Embark on an exciting adventure with your Dragons all while battling more than 100 levels.
= CHALLENGE =
– Take your Dragons to the Arena and go head-to-head against your friends!
– Battle and earn daily rewards on Ghost Land and Tower Zone.
CONTACT US AT :[email protected]
LIKE US:https://www.facebook.com/dragontrainergame
Download free apk app for android or iphone ios.