PokéFinder – Companion App For Pokémon GO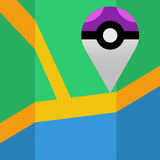 Release Date:
Current Version:
Adult Rating:
Developer:
Compatibility: iOS, Android
Rating:

4/5 from 36 votes
Become a pokémon master and catch 'em all with the PokéFinder app!
The easy-to-use interface lets you quickly search for known pokémon locations around your current location. Submit your own pokémon locations or take it to the next level by creating an account and earn points for every pokémon location you submit! Leaderboards rank trainers and let you know who the true pokémon masters are.
PokéFinder show's you the distance of pokémon in kilometers along with their spawn rate (rarity), time reported, and screenshots to help you verify locations.
PokéFinder is driven by the community, so if you don't find pokémon in your area, help out your fellow trainers by submitting locations of pokémon, and make sure you're logged in so you earn points! Points will be used to future features, so make sure to get as many as you can.
Our highly intelligent pokémon database automatically weeds out poor submissions and removes users who abuse the system.
An enhanced version of this app, PokéFinder+ is also available if you'd like to support your friendly developer 🙂
DISCLAIMER:
PokéFinder is not affiliated with or endorsed by the Pokémon brand, Niantic or Nintendo.
PokéFinder is a 3rd party application that provides crowdsourced pokémon locations and other community based features.
Download free apk app for android or iphone ios.