World Anime Character Guess Trivia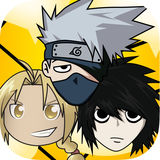 Release Date:
Current Version:
Adult Rating:
Developer:
Compatibility: iOS, Android
Rating:

4/5 from 36 votes
Can you really call yourself an Anime Lover? Take the challenge now!
Test your brain! Reveal the pictures of anime images & Guess that name!!!
Everyone in anime loves the guessing, let JOIN THE FUN NOW!
Features:-
– 4 Choice , Easy to Play
– Button Skip any level as you want.
– Asking for help with your FB friends
– Get live anytime you want
It may start easy, but could you made it to the end? Are you ready for the anime Challenge?
Download free apk app for android or iphone ios.