Terapets – Discover Battle Monster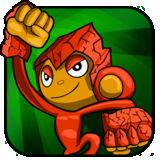 Release Date:
Current Version:
Adult Rating:
Developer:
Compatibility: iOS, Android
Rating:

4/5 from 36 votes
?????
TERAPETS: 300 MUSICAL PETS,30 AREAS,EVOLUTIONS,FIGHTS,ATTACKS,OBJECTS, PROFOUND STORY,STRATEGY,MULTIPLAYER AND MORE FOR FREE.
Teraland is a fantastic world where humans live together with some creatures called Terapets.
They have always lived happily in harmony with nature and the inhabitants of Teraland.
But, for some reason, not long ago, the Terapets have lost their melody and, therefore, their light and happiness… What's the reason for this tragedy? They need somebody whose bravery and spirit will make possible the return of the melody to the Terapets.
Could it be you?
FEATURES
? Save hundreds of TERAPETS from darkness playing their unique melody with your OCARINA.
? Use one of the 7 OCARINAS to rescue and capture as many TERAPETS as you can.
? Create your own fighting MONSTER TEAM with up to 6 Terapets.
? Train your monster team to level up characteristics until level 100.
? Choose your terapets well among the 13 BASIC TYPES and their combinations to create YOUR OWN STRATEGY.
? Learn new attacks to level up. Strength is not always the most important thing, some attacks level up characteristics, put to sleep or freeze.. your oponent.
? Make your terapets EVOLVE into new pets to change your (Some Terapets may evolve up to 7 times).
? Use Objects, in and out the battle.
? Use the EXPLORE mode to capture wild Terapets and the BATTLE mode to fight against other petleaders and and move forward in the story.
? Defeat the GODDESS SOLLOW and save TERALAND from darkness and silence.
? if you are able to, capture all the TERAPETS and fill the JOURNAL completely.
??? Face your friends from all over the world using the MULTIPLAYER MODE
CONTENT
?300 Wild Musical Pets in different areas and times.
?261 Powerful Attacks you keep learning as you level up.
?100 Levels you can access with every Terapet as you gain experience.
?13 Basic Types which result in 169 Complex Types.
?50 Useful Objects to cure conditions, increase habilities or move forward in the story.
?30 Animated Areas, discover the most dangerous ones like the Volcano Area or the Purple Marsh.
?5 Battle Conditions (Froken, Paralyzed…)
?2 Continents
?0-7 Evolutions of every Terapet, some of them may evolve in 7 different ways.
?3 Different Ocarinas to capture Terapets with different difficulty levels.
Why can't you download the game without a Wi-Fi connection?
Terapets is a very well elaborated game, it's impossible to include all of our designs in less than 20 Megabytes, Apple's limit to download through 3G. Wait until you have a Wi-Fi connection to download it. It's worth it.
Download free apk app for android or iphone ios.