Anime Pocket – Anime Gallery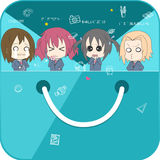 Release Date:
Current Version:
Adult Rating:
Developer:
Compatibility: iOS, Android
Rating:

4/5 from 36 votes
Anime Pocket contain anime puzzles and anime wallpaper, it collects lots of exquisite cartoon portrait ACG, a variety of new fan cartoon illustrations and popular cartoon illustration.
Beautiful pictures can customize the settings as wallpaper and save it to your pocket.
Application features
> Large data storage capacity, currently has more than 100000 pictures and portraits,including the most popular anime,such as Naruto, Hatsune Miku, Attack on Titan, Bleach etc.. Users can customize search for favorite pictures.
> The applications included the jigsaw puzzle game,which has a strong function of the standings. Please don't hesitate,just enjoy it.
> One Click to set any picture as your wallpaper.
> Quickly share pictures: Any picture or illustration which you like can be a key to shared to your friends.
> Follow your favorite animations and set classification subscriptions, when the classification is updated, the system will automatically remind.
> You can collect favorite pictures into the pocket, took out pocket to enjoy at any time.
> Users can upload their favorite pictures or illustrations to the corresponding classification by themselves. For example: long click anime type(such as one piece or Tokyo Ghoul) then choose your local images, finally click Start Upload!.
> Daily update the latest and hottest illustration or animation pictures.
> Multilanguage support,Chinese ,Japanese, English are available currently.
Download free apk app for android or iphone ios.