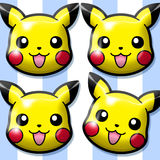 Release Date: 2015-08-31
Current Version: 1.14.0
Adult Rating: 4+
Developer: The Pokemon Company
Compatibility: iOS, Android
Rating:

4.66366/5 from 10,980 votes
¦ Introduction
– A whole new puzzle game where you solve puzzles to battle Pokémon
Pokémon Shuffle Mobile is a puzzle game where you line up three or more Pokémon vertically or horizontally to battle against wild Pokémon.
You can play it casually—but battling, collecting, and leveling up Pokémon can also provide hours of fun.
– Lots of stages and lots of Pokémon
On top of the Pokémon available at the initial release of Pokémon Shuffle Mobile, additional stages and Pokémon are planned, but this game already has a lot to offer! Both puzzle beginners and experts will have fun with Pokémon Shuffle Mobile's various levels of challenges.
– Intuitive and easy game play
All you have to do in Pokémon Shuffle Mobile is select a Pokémon and its destination in the puzzle area to cause combos automatically—anyone can play it!
Its simple gameplay blends with challenging strategic aspects to appeal to a full spectrum of players from beginners to experts.
¦ Notes
– Terms of Use
Please read the Terms of Use before using this application.
– Device settings
You may not be able to launch this application, depending on your device's settings and/or how it is used. In order to maintain fairness among players, some functions may become inaccessible if certain operations (such as jailbreaking) have been performed.
– Connection environment
If you use this application in locations where reception is poor, your game data may become corrupted or lost.
Please make sure to play this game in locations where reception is good.
If communication is lost momentarily, you may be able to resume play in some cases by pressing the Retry button.
Please note that we are unable to assist you if you experience problems due to communication errors.
– Before making purchases
iOS version 7 or higher is required for this application. Available features may depend on your device's iOS version.
Please make sure that you can use the free-of-charge features of this product with no issues on your device before you make purchases.
Certain devices and/or configurations may also cause the application to fail to work.
– For inquiries
Please visit support.pokemon.com to report issues about Pokémon Shuffle Mobile.
Download free Pokémon Shuffle Mobile apk app for android or iphone ios.