Pro Dex for Pokemon GO – Best Guide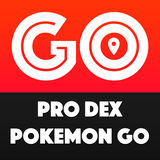 Release Date:
Current Version:
Adult Rating:
Developer:
Compatibility: iOS, Android
Rating:

4/5 from 36 votes
Pro Dex GO is the ultimate unofficial guide for Pokémon GO to help you become the best trainer out there. It includes every information you will ever need on each of the 151 Pokémon:
– Pokédex: Pokémon list with every detail such as stats, moves and training data
– Movedex: Moves list with every detail such as damage, type, duration, known by list…
– Itemdex: In-game items list with requirements, location and description.
– Favorite list.
– Trainer tools such as IV calculator, type charts, XP rewards.
– Best tips and things you should know to play like a pro!
This App is not affiliated, connected or associated with Niantic Inc./The Pokémon Company or any of their affiliates. This is an independent, unofficial App, made for informational purposes only, under Fair Use. Trademarks belong to their respective owners. No infringement on the Nintendo trademarks is intended.
Download free apk app for android or iphone ios.