Pokemap Radar for Pokémon GO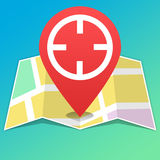 Release Date:
Current Version:
Adult Rating:
Developer:
Compatibility: iOS, Android
Rating:

4/5 from 36 votes
Pokemap is your best helper to find Rare Pokémon!
It shows you the locations of Pokémon around you and lead you to find all of them at once. App is totally FREE!
Key Features:
– Quick Scan: All nearby Pokémon will show on the map, you can turn on with timer of disappearing.
– Pokémon filter: You can use "Pokémon Filter" function to find a specific one, such as your favorite.
– Spawn Point: Quickly show the spawn points which some Pokemon has been spawned at.
With the help of Pokemap, you'll be definitely far from worrying about where to find your favorite Pokémon and you'll never end up with walking for a long way with nothing in hand. If you wanna be a super catcher, Pokemap is your must have tool!
— DISCLAIMER —
Pokemap is only a support app for Pokémon GO. It is not associated, affiliated, endorsed, sponsored or approved by any Official Parties and does not have the rights or ownership to any trademark materials. If there is any infringement, please contact us at [email protected] and we will remove it IMMEDIATELY.
Download free apk app for android or iphone ios.