Pixelmon Hunter – Fighting at block style arena with skins exporter for minecraft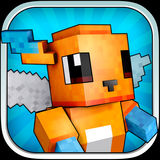 Release Date:
Current Version:
Adult Rating:
Developer:
Compatibility: iOS, Android
Rating:

4/5 from 36 votes
Welcome to the Universe of Pixelmon Hunter! Choose your monster, get the weapon and join the battle! Who knows – maybe you're fated to become the Lord of the Pixelmons?
Feel the power of the Great Elements! Every element controls its own arenas, weapons and monsters types! Learn how to take the control over each element to invent your individual battle tactics! Try to get all of pixelmon types: fire, water, electric, stone and others!
Choose the game mode that fits you better:
– multiplayer mode (2 to 4 players to fight with)
– single player mode (you vs. bots)
Pixelmon Hunter is not only the cool multiplayer game but also a handy skins exporter for minecraft! You can upload a skin to your Mojang account and play minecraft with fun on your computer (unfortunately, skins export is now available only for desktop version of minecraft, because the mobile operating systems don't support these function).
Explore the beautiful world of adorable monsters and legendary fights!
Download free apk app for android or iphone ios.