Anime Quiz For Pokemon Fans ~ Name the Pokémon Edition Cartoon Characters Pics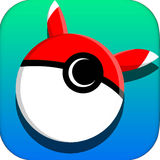 Release Date:
Current Version:
Adult Rating:
Developer:
Compatibility: iOS, Android
Rating:

4/5 from 36 votes
Can you guess the Pokemon characters of All Generations?
Have knowledge about popular Pokémon characters??
A real Pokemon fan can !!!
Pokemon rubis omega,Pokemon saphir alpha,Pokemon serena,Pokemon oras,Pokemon xy,Pokemon blak & white — All Popular characters !
Anime Quiz is a simple, addicting trivia quiz.
Features:
• No sign-up required
• Use skips,reveals & removes to solve quizzes
• Earn bonus reveals & removes after completing each levels
• Simple game-play
• No rules to learn
• Just download and play
Test your memory and guess the name of Poké icons.
So, what are you waiting for? Download while it's free!
Download free apk app for android or iphone ios.