Sonic The Hedgehog 4™ Episode I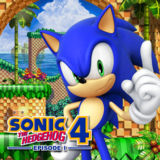 Release Date: 2010-10-07
Current Version: 1.5
Adult Rating: 9+
Developer: SEGA
Compatibility: iOS, Android
Rating:

3.49434/5 from 795 votes
The sequel fans have waited 16 years for is finally here – Sonic The Hedgehog™ 4 Episode I!
Featuring enhanced gameplay elements, including the classic Sonic Spin Dash, and the versatile Homing Attack, Sonic 4 picks up right where Sonic and Knuckles™ left off.
____________________________
2 EXCLUSIVE LEVELS!!!
Two exclusive levels built specifically for play on the iPhone & iPod Touch using the accelerometer.
NEW MOVES
All of Sonic's classic moves are available, including the newer Homing Attack which will add a new level of control and excitement.
CLASSIC SONIC STAGES
Race through 4 unique zones containing 4 acts each as well as 7 special stages.
SPECIAL STAGES RETURN
A staple of the Genesis-era games, the special stages return allowing fans to collect the 7 Chaos Emeralds and unlock Super Sonic.
REVAMPED CLASSIC BOSS BATTLES
Dr. Eggman returns with new and improved mechas and will go berserk when he accumulates damage.
GamePro – "…this looks and feels like a genuine Sonic game, deserving of the "4" attached to its title."
IGN – "After an afternoon in its presence it's become seared in our conscience just like the classic levels of the early Sonics – and surely that's reason enough to have faith in Sonic the Hedgehog 4."
– – – – –
Privacy Policy: http://www.sega.com/mprivacy
Terms of Use: http://www.sega.com/terms
Download free Sonic The Hedgehog 4™ Episode I apk app for android or iphone ios.