PokeWhere – Live Radar Map for Pokemon GO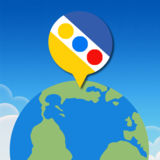 Release Date:
Current Version:
Adult Rating:
Developer:
Compatibility: iOS, Android
Rating:

4/5 from 36 votes
PokeWhere – live radar for Pokemon Go
PokeWhere shows you the CURRENT REAL location of Pokemon around you in real-time on a map. It's that simple! PokeWhere is a live radar to assist your hunting 🙂
If you need any support you can contact us on twitter @PokeWhereGO or Facebook – we're very responsive and try to get to everyone.
— PRO —
This app is built and maintained by two students. If you would like to help support us you can purchase pro which will give you access to reduced scan cool down time and more soon 🙂
— INSTRUCTIONS —
1. Click on the button to scan for Pokemon in that area.
2. As you move around it will load cached Pokemon.
3. If no pokemon appear then there may be server issues and you should check our twitter for updates!
— FAQ —
1. I don't see any Pokemon! :/
This is either due to you being in a more rural area and needing to click the scan button. If you've clicked scan and you get an error then it may be due to server issues, check our twitter for updates.
2. I want you to add [insert feature here]
Message us on twitter and we'll try to implement it
— DISCLAIMER —
PokeWhere is a fan/support app for Pokemon GO. It is not associated, affiliated, endorsed, sponsored or approved by any Official Parties and does not have the rights or ownership to any trademark material. If there is any infringement please contact us on [email protected] and we will remove it IMMEDIATELY.
Usage of this app states that you agree to our ToS: http://pokewhere.co/tos.txt
Download free apk app for android or iphone ios.