Pokecrew – Map for Pokémon GO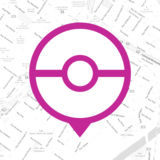 Release Date:
Current Version:
Adult Rating:
Developer:
Compatibility: iOS, Android
Rating:

4/5 from 36 votes
Pokecrew for Pokémon GO is the assistant app for discovering the locations of Pokémon found by other trainers near you.
Pokecrew lets you:
– See live countdowns of when Pokemon will despawn (from crowdsourced data, when recent
– CP / Evolution Calculator: Know what your Pokémon's CP will be before evolving it so you know it is worth the candies!
– Filter the map by Pokemon type
– Filter the map by recency — only show pokemon users reported *just* now, or only show Pokemon nests
– Get directions to a Pokemon sighting
– Add sightings in two taps
– Upvote reliable sightings and downvote unreliable sightings
Our data is sourced from our community. Sometimes there won't be enough sightings in your area. That means we need your help to add more sightings to the map and upvote/downvote sightings. Our app lets you do this easily.
When too many people downvote a sighting, we remove it from our map so others know not to go there.
Pokémon © 2002-2016 Pokémon. © 1995-2016 Nintendo/Creatures Inc./GAME FREAK inc. TM, ® and Pokémon character names are trademarks of Nintendo. This is an app created by fans, for fans and has no official relationship with Nintendo, The Pokémon Company, Creatures Inc, or GAME FREAK. The Pokémon Company owns all trademarks relating to Pokémon.
Download free apk app for android or iphone ios.