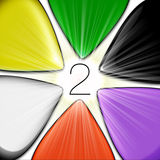 Release Date: 2011-01-06
Current Version: 7.1.3
Adult Rating: 9+
Developer: PIOTR FARBISZEWSKI
Compatibility: iOS, Android
Rating:

1.26339/5 from 224 votes
iMtG is probably the most advanced and innovative Magic: the Gathering toolbox app in the App Store, since 2011. It has camera Scan function linked to Card Database with pricing, beautiful coverflow views of card lists and decks, unique Magic Binders collection management, Facebook deck sharing and friendly Gathering community forum.
iMtG Plus includes card rules data and pricing for Pokemon and Yu-Gi-Oh! Trading Card Games through an optional free download in Main Menu -> Settings.
Life Counter is easy to use, yet fully functional. It supports portrait and landscape modes. It has multiplayer support with Commander damage tracking and separate poison counters for 2-Headed Giant team. Multiple iMtG Life Counters can be linked over Bluetooth, which is really cool.
Deck Builder includes sample play / fish tool, mana statistics, export by Email and sharing on Facebook. You can use Import from iTunes or Dropbox to upgrade from other MTG deck builders which support .dec file format.
Card Database has up to date pricing and advanced collection management. You can set how many you need, own and want to trade of each card. It will add the card to the appropriate report in the Main Menu. As soon as a new expansion is released, you can update your database in Main Menu -> Settings & Tools -> Tools.
Magic Binders are digital reflection of your physical binders, allowing you to keep your collection data always with you, on the move and in the net. Mark your cards as foils, signed, set condition and language version, make notes. Post your collection's trading part online with a press of a button as Private Page on Gathering.
Gathering is our thriving MTG community forum and it's linked to Multiverse, a geolocation feature which allows you to manually update your position on Earth map. Multiverse does not track your location continuously, you set your base once.
Trade module contains quick Price Check and Trading tool, working together with Needed and Trade Binder. Needed list is especially handy when you are heading for your local shop to do some trading, and you are guaranteed to wow your friends when you show them what you need in a stunning landscape coverflow view. Prices are courtesy of TCGplayer.com, displayed in configurable currency and multiplied by configurable factor, so you can adjust for your local market. Trading is integrated with Potential Trades, an automatic trade matching system for Gathering users.
While iMtG is mostly free, in the built-in Shop you can pay to unlock optional functionality. Offline cache enables foil prices, mass update tool and background price fetching on card lists. You can also unlock unlimited decks maintenance and add handy Clone function to test different versions of the same deck, in-app access to card rulings, unlimited scanning, unlimited binders, advanced trading functions and card translations.
Please note the Support and Feedback option, the use of which I greatly appreciate.
For the latest news and development updates follow me on twitter @iMtGApp
You can also contact us on Gathering, where we discuss life and magic in general.
Prices and some imagery are courtesy of our long time partner TCGPlayer.com
Wizards of the Coast, Magic: The Gathering, and their logos are trademarks of Wizards of the Coast LLC in the United States and other countries. Copyright 2009 Wizards.
Pokemon content is © 2016 Pokémon/Nintendo.
Yu-Gi-Oh! content is © 2014 NAS TV Tokyo.
iMtG app is made and owned by Piotr Farbiszewski and is not affiliated with, endorsed, sponsored, specifically approved or authorized by Wizards of the Coast LLC. We do love them though. All Rights Reserved ;]
Download free iMtG apk app for android or iphone ios.