Poke Scanner – Radar for Pokemon Go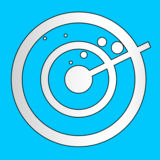 Release Date:
Current Version:
Adult Rating:
Developer:
Compatibility: iOS, Android
Rating:

4/5 from 36 votes
Welcome to power tool for tracking pokemons
You are playing Pokemon Go and you want to know where are the pokemons?
This tool help you to do that.
We are providing you the excellence app with these functions:
-Display location of pokemon exactly!
-Show pokemon duration time.
-Show type of pokemon as well as how rare is it
-Show path from current location to the target pokemon location.
With this tool you will collect right pokemon at right place and save your time alot.
Let download and catch em now!
Please Note:
Continued use of GPS running in the background can dramatically decrease battery life.
Download free apk app for android or iphone ios.