Snapimals – An Amazing Animal Adventure! Discover and Snap Photos of Cute & Funny Animals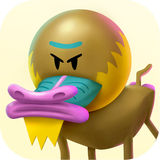 Release Date: 2015-11-19
Current Version: 1.2.0
Adult Rating: 4+
Developer: BebopBee, Inc
Compatibility: iOS, Android
Rating:

4.64811/5 from 7,474 votes
"Snapimals is the Pokémon Game the Rest of Us Have Been Waiting For – Everything about Snapimals oozes with charm. It's a simply feel good game, obviously built with a lot of heart, and has already stolen ours" – Jillian Werner, Gamezebo
"I'm addicted to this amazing game. Reminds me of Pokemon Snap, only better" – LoverOfGames_007
Discover extraordinary and quirky animals, snap their photos and build the greatest museum on Earth in Snapimals! With incredible animations, a heartwarming cast of animals and a relaxing soundtrack, kids and adults alike are sure to love the safari photo snapping action waiting to be discovered in Snapimals.
Join The Captain and venture to the ends of the world to photograph the rarest, funniest and wildest animals ever spotted!
SNAPIMALS FEATURES
* EXPLORE Distant Exotic Lands: From the Dino to the Wilds, explore unique islands and discover amazing wildlife.
* SNAP Photos of Amazing Animals: Cute, funny and ferocious – There's an animal for everyone waiting to be discovered in Snapimals!
* ENCOUNTER Prehistoric Wonders: Travel to the island of the dinosaurs to see what life was like before man – and capture it with your camera!
* BUILD Your World: Expand your museum and collect new photos to become the best builder. Visitors will come from around the world to see your gallery!
* LIVE the Moment: Experience a vibrant world through the lens of your trusty camera.
* GO WILD: Venture among the animals and see what they really do when nobody's watching.
* PLAY with Animals – See the wild side of your favorite animals! Toss goof-balls to discover rare hidden behaviors.
* GIFT and SHARE special gifts, including a possibility of Camera Rolls from your friends
* UPGRADE your Camera – Unlock upgrades to zoom in and get up close and personal with the animals. Use special 3D Touch controls for Zoom and 'Peek and Pop' for iPhone 6s.
* COMPLETE the Captain's Collection – Snap and Collect all the Captain's sought after pics
* CONSERVE and Collect: Spread awareness of natural wonders, one photo at a time.
Most recent update:
* NEW * DAILY SNAP EVENT – Complete the Daily Snap challenge to unlock tours to yet uncharted lands!
* NEW * FERRIS WHEEL OF FORTUNE- Engage in delightful Spins for rewards like Gems and Golden Tickets!
Snapimals is a wildlife adventure unlike any other! Join your favorite animals in the wild, snap pics to fill out your collection, and build the most amazing museum the world has ever seen!
Download free Snapimals Love Amazing Animals apk app for android or iphone ios.