GoChat – Chat for Pokemon GO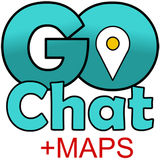 Release Date:
Current Version:
Adult Rating:
Developer:
Compatibility: iOS, Android
Rating:

4/5 from 36 votes
NEW: Get notifications on your phone when near monsters, gyms and Pokestops.
GoChat is the perfect companion for Pokemon Go. It helps you find more monsters, pokestops plus teammates to chat and trade tips with or take over a gym! GoChat makes Pokemon Go more fun.
Features:
Get notified when rare monsters are nearby *NEW*
Get notified when you're near a Pokestop or Gym *NEW*
See map of all Pokestops and Gyms in your area
See a map of nearby monsters
Communicate with nearby trainers
Team Chat (Blue/Red/Yellow) – Chat with players to scheme to take over a gym
Group Chat – Setup private chat room for you and your friends.
Share your location with others via map function
Get tips to beat every monster
Do all of that while playing Pokemon Go with notifications and chat head feature which indicates messages over the top of the game! You can read and reply while leaving the game open.
Drop us email at the link below with any feedback good or bad because we love to hear from users.
NOTE: We are not affiliated with Niantic Labs or the Pokemon company, but we like them a lot and hope our chat app makes their game play even better!
GoChat does not use your Pokemon account info in any way. We never contact the Pokemon Go servers using your device or account information. Other apps may do that and it could lead to getting banned from the game.
Continued use of GPS running in the background can dramatically decrease battery life.
Download free apk app for android or iphone ios.